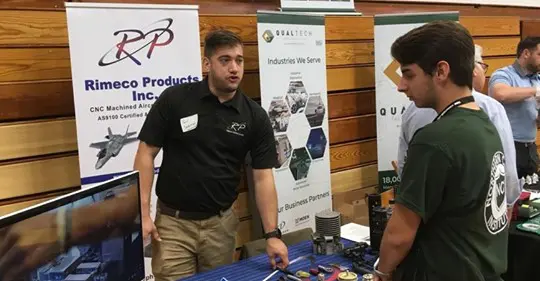 By Bill DeBus bdebus@news-herald.com
About 600 students from 15 Lake County high schools spent time doing their homework Oct. 3 at Madison High School. Specifically, these students got the chance to learn more about careers in manufacturing and employment opportunities in the field that are available in Northeast Ohio. It was all part of the 2019 Lake County Think Manufacturing Career Expo.
Between 10 a.m. and 1 p.m., students were able to speak with employees and executives from 37 manufacturing companies that had set up tables in the school gymnasium.
"Our mission is really to connect the manufacturers with the students so that they can educate the students about all the great career opportunities in manufacturing, and at the same time, actually engage with those students who are graduating, almost ready to work, or looking for part-time jobs, apprenticeships or internships," said Karen Tercek, president and CEO of the Willoughby Western Lake County Chamber of Commerce.
"In fact, a lot of the students that are ready, they're seniors, are wearing, 'I am ready to work' badges," Tercek added. "The manufacturers then can have a better idea, and say 'Hey, this kid's ready to work, I need to talk to him or her.' "
The chamber teamed with the Eastern Lake County and Mentor Area chambers of commerce, along with the Alliance for Working Together Foundation, to present the seventh annual expo. An array of other companies and organizations supported the event by serving as sponsors.
Organizers divided the expo into two 1 ½-hour sessions. From 10 a.m. to 11:30 a.m., 300 of the students were able to walk around the gym and talk with manufacturers at their booths, while the other 300 attended workshops. Each group of students switched to the other side of the expo for the final hour and a half. The workshops consisted of three programs, which all of the students attended on a rotating basis.
"One (workshop session) is a panel discussion of young folks in manufacturing, talking about how they got into their careers and why they stay in manufacturing — what is it that they like about manufacturing?" Tercek said. "Then we have another room where it's all hands-on equipment from different manufacturers that students can try out.
"That's kind of a new one for us this year that we thought was really important for the students to be able to touch and feel in terms of what they would be doing in a manufacturing company." The final workshop was incorporated into the lunch session for all students who attended the expo.
"As a part of it, each of them have a manufacturing rep at their table, so as they're eating lunch, again, they're engaging in conversation with that person, having that opportunity to ask that person why they went into manufacturing, what are some of the skills that are needed to go into manufacturing, and what can you advance to when you're starting at entry-level jobs," Tercek said.
Students also got the chance to have plenty of one-on-one conversations with employees and executives of the manufacturing companies that were staffing booths throughout the gym.
Anthony Harper is a senior at North High School in Eastlake and the Northern Career Institute, where he is enrolled in the welding program. He spent time at the expo checking out companies that might be good places to start and advance in his career as a welder. "So far, everyone (from manufacturing companies) I've talked to here has been very professional," Anthony said.
Logan Bausman, a sophomore at Madison High School, said the manufacturing company representatives at the expo did a good job of explaining what these businesses do and what they offer for internships and new employees. Logan said he would be interested in a metalworking job in manufacturing. "I just like the thought of building something that someone else would get to use," he said.
Logan had just finished visiting with Serena M.E. Smith, human resources representative for Conn-Selmer, an Eastlake-based manufacturer of musical instruments.
"We will take young people and we will train them in our jobs," Smith said. "We just need someone with a good work ethic. Someone who is going to show up every day on time, and want to work. And surprisingly, that can be quite hard to find."
Another company that participated in the expo was Rimeco Products, a Willoughby-based manufacturer of computerized numerical controlled machined aircraft components.
"As long as you have some basic knowledge in mathematics, it's a very important thing," said Paul Sedmak, Rimeco's implementation manager, on the qualities needed for an entry-level position at the company. "Understanding how things are pictured on a drawing or design, that's really important." Sedmak said he was impressed with some of the students who visited Rimeco's table at the expo.
"There are some really good questions being asked and it makes you very happy," he said. "It helps me give my understanding to them."
Angela Smith, Madison Schools superintendent, said she was pleased that the district was chosen to host the seventh annual career expo. "I think the work that the Alliance for Working Together Foundation does to promote manufacturing careers for students is very important," she said.
Founded in 2002, the AWT Foundation's mission is to promote the development of rewarding careers in manufacturing for the long-term success and growth of the manufacturing community, the organization's website states.
The foundation works to create awareness and interest in manufacturing careers, to increase enrollment in training programs, and to make sure curriculum for those programs is what manufacturers need.