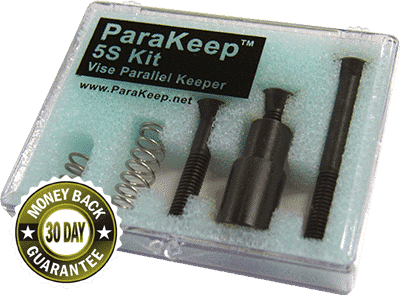 The ParaKeep 5S Kit comes standard with the ParaKeep and 3″, 2″ and 1″ Screw. In addition, we added a 1.5″ and .75″ stainless steel spring for the few jobs the Parakeep won't fit.
The ParaKeep as a stand alone item comes with a 1″ screw. Use any flathead 5/16-18 screw to expand to your desired length while keeping your parallels.
The ParaKeep is a spring loaded adjustable Parallel Keeper for Vises. The ParaKeep comes with a standard 1″ flat head screw which allows adjustments from 1.125-2.25″ and the 5S Kit comes with the ParaKeep, a 3/4″ and a 1.5″ spring and 1″, 2″ and 3″ screws which allow for adjustments from .25″ to 4.25″. 
The Kit fits neatly on any work table or any tool box. It has a foam insert with cutouts of each item to show which items are in use and where each item needs to be returned. The ParaKeep is a simple solution that aids in the lean concepts of External Set-up and 5S and can pay for itself in one use.
Combine the appropriate screw to the ParaKeep body to achieve desired length.
We suggest the length of the combined ParaKeep + Screw to match the length of the material stock when using standard 1/8″ parallels.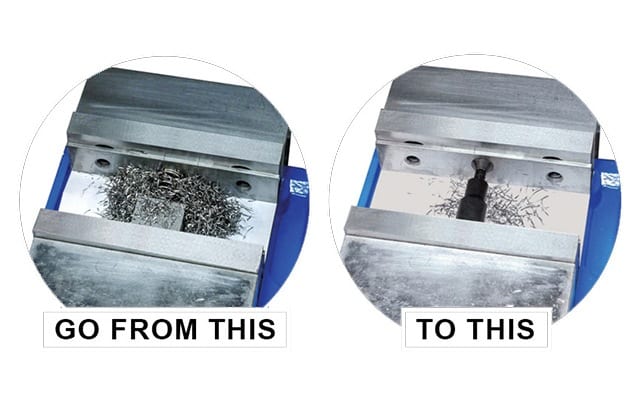 The ParaKeep is the lowest cost and most durable Parallel Keeper on the market. It is made from a Steel housing and Piston with a Stainless Steel Spring crimped inside. It greatly reduces the time spent setting up vises and the time spent looking for ways to hold parallels in place during production. The round construction also allows for metal chips to move throughout the vise, preventing large chip build-ups in the vise during production.